Huangpu's time-honored stores on track to resume operations
East China's Shanghai has made progress in the handling of its COVID-19 epidemic, and many time-honored stores in the city's Huangpu district recently reopened to the public.
Xinghualou, a catering chain founded in 1851 in Huangpu that had been temporarily suspended due to the COVID-19 outbreak in March, opened offline services to consumers, and many long-awaited local delicacies made by the time-honored brand will are now available to satisfy consumers' huge appetites at the restaurant.
Consumers can order food from many time-honored brand restaurants in Huangpu via food delivery platforms such as Eleme and Meituan.
Xinghualou Flagship Restaurant on Fuzhou Road downtown is one of the first retail stores to resume work since the outbreak, and it launched an array of set meal sets to meet the diversified needs of consumers, with prices ranging from 90 yuan ($13.62) to 200 yuan.
Chen Jie, vice-general manager of Xinghualou Food Company, said that the food company strictly implements the COVID-19 prevention and control measures, and conducts random daily antigen and nucleic acid tests on its employees. Delivery workers are also asked to present their valid nucleic acid test result and permit, to ensure that they can do their jobs safely and that consumers receive their deliveries safely.
Local authorities said that the situation of the epidemic in Shanghai is stable and improving, and many catering enterprises will resume operations gradually, offering consumers more choices at the restaurant's tables. More rescue measures are urgently needed to provide support to those in the catering, retail, and tourism industries that have been hit hard by the pandemic.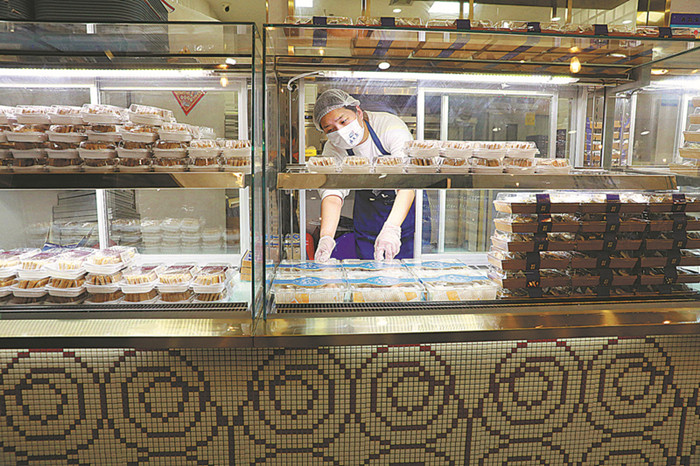 Many time-honored stores in Huangpu district in East China's Shanghai reopen to the public. [Photo by Zhu Xingxin/China Daily]